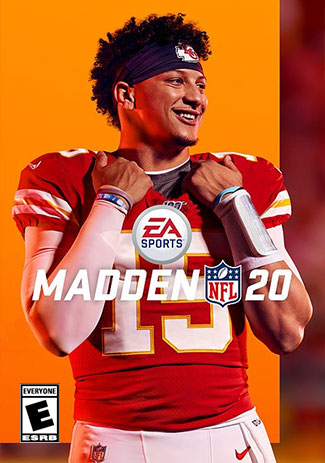 Madden NFL 20 (Xbox One Download Code)
Buy Madden NFL 20 Xbox One Game Code
Buy Madden NFL 20 game code and You will receive your game download code directly by eMail. Please check the spam or junk mail folder too. Use the code to download the complete game on your Xbox One gaming console. Don't miss out this offer.
---
About This Game
Create your own College Quarterback to play through the College Football National Championship playoffs and the NFL Combine for your shot at the NFL Draft and to be the face of a franchise in a new and personalized career campaign centered around you.
Once selected to a team, engage with Madden's new Scenario Engine which generates personalized playable scenarios, events, and dynamic challenges that build the story of your unique NFL career.
Franchise
Simulate a full NFL career and leave your legacy as a player, coach or owner with single-player or multiplayer online-connected leagues. Compete with up to 32 teams in your quest for a Super Bowl Dynasty. Complete with an annual Pro Bowl and Seasonal Awards.
Ultimate Team
Compete in the ultimate NFL fantasy team-building featuring your favorite NFL players.
Play games, collect rewards, and upgrade your team with daily, fun and engaging challenges with live NFL content all year-long
Exhibition
Compete in head-to-head online and offline games or single player offline against the CPU.
Customize your game settings including time of quarters, rules, stadiums, and uniforms.
Superstar X-Factor
An all-new abilities progression system that reveals special abilities for today's most exciting NFL Superstars.

Feel the emotion, personality, and power of NFL Superstars with Superstar X-Factor, when certain objectives are met in games.

Combined with authentic personality & real player motion, the stars of the NFL truly come to life in Madden NFL 20.
Run/Pass Options
Run/pass option plays are now available to call, bringing even more NFL authenticity to today's play-calling.
On-Field Trainer
A cohesive, modernized teaching system that introduces new in-game mechanics over time as you progress through your gameplay experience.
New Pump Fake mechanic
Pump-fake to a specific receiver and fake out defenders with a new double-tap 'throw cancelling' mechanic.
NFL Pro Bowl
Play the annual Pro Bowl within Franchise mode and 'Face of the Franchise: QB1' featuring all-stars from the AFC and NFC.
Superstar-Driven Play-Calling
Play-calling tailored to the Superstars on your team to quickly get your stars involved when you need them the most.
Updated celebrations
Over 20 new TD and First Down celebrations added to bring more swag to the biggest plays on the gridiron.
---
System Requirements
MINIMUM:
OS: Xbox One
Architecture: x64